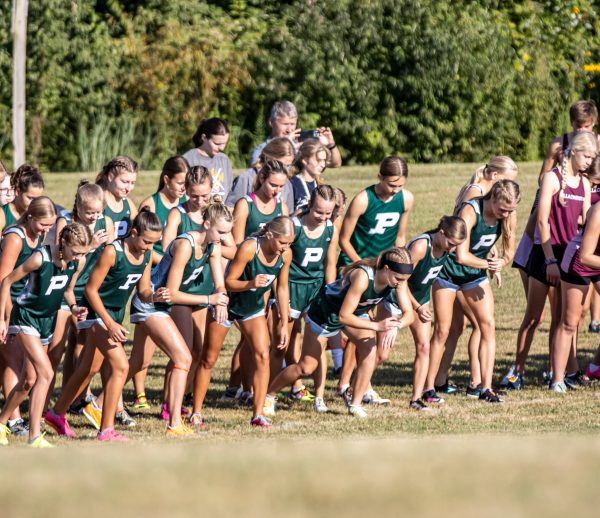 Meet Information
Date: September 5, 2023
Location: Ahrens Sports Complex -1500 Penrose St, Grinnell, IA 50112 –  [Google Maps Link]
Race Start Time:
8:30 AM – Girls Race

9:15 AM – Boys Race
NOTE: Both races are going to be run in the morning instead of afternoon in order to beat the heat.
Parking:  Ample parking is available at the park parking lots.
Last Year…
Boys Results 2022
Boys 5K
Pella 1st – 32
Top 3 Dutch Individuals
Chase Lauman 1st 15:58.5*
Canaan Dunham 3rd 16:12.5
Nathan Vander Waal 5th 16:31.8
*Course Record
Girls Team Results 2022
Girls 5K
Pella 1st – 33
Top 3 Dutch Individuals
Raegan Snieder 3rd 20:08.9
Marissa Ferebee 5th 20:11.8
Autumn Blink 7th 20:14.8
Join us for an exhilarating 5K run around Aherns Sports Complex! The course consists of two spacious loops on flat terrain, perfect for those aiming for a personal best or just out for a refreshing morning jog. What's special? This will be our inaugural weekday morning race, adding a sprinkle of novelty to the event. For our wonderful supporters, the course design allows for multiple vantage points. Settle at a spot to see runners pass by several times or be adventurous and move around to cheer from various angles. Regardless of how you participate, it promises to be a morning filled with energy, excitement, and community spirit. Let's make it memorable!
Probable Team Line Up
Varsity Boys
EVERYONE!
Varsity Girls
EVERYONE!
Ahrens Sports Park Girls Top 10 Time All-Time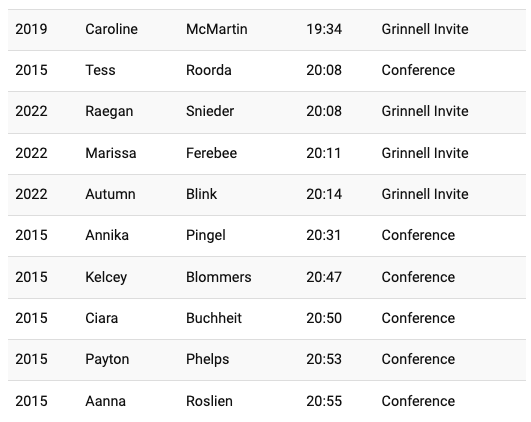 RACE LINE UP (as of 8/29/1/23)
Boys: BGM, Benton, Bondurant-Farrar, Grinnell, Knoxville, Lynnville-Sully, Newton, 3A #1 Pella, 3A #14 South Tama, 2A #11 Williamsburg, Xavier
Girls: BGM, Benton, Bondurant-Farrar, Grinnell, Knoxville, Lynnville-Sully, Newton, 3A #1 Pella, South Tama, 2A #6 Williamsburg, Xavier
Ahrens Sports Park Boys Top 10 Time All-Time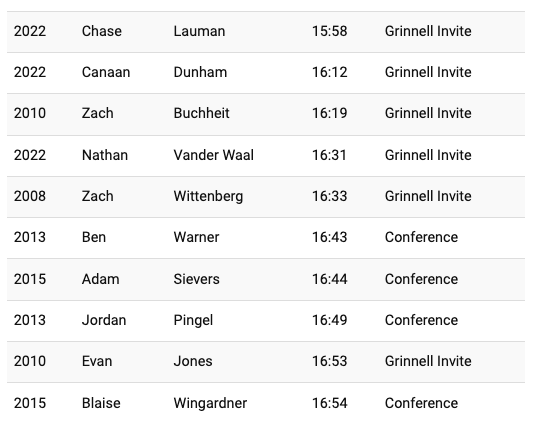 Athlete Spotlight
A Refreshing Morning Race: Pella Takes on Grinnell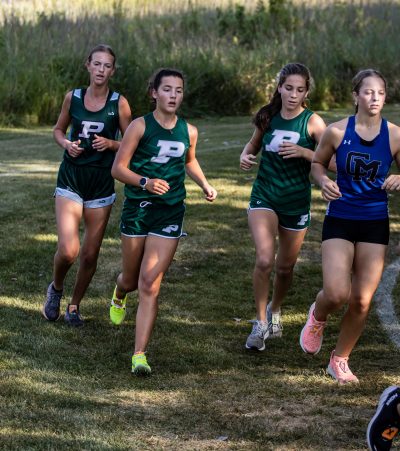 The Grinnell staff deserves commendation for their innovative planning, which allows this race to kick off without the typical midday heat challenges. This marks Pella's debut in a weekday morning cross country race, and they are excited to give it a go.
Runners to Watch:
Pella's girls are in the limelight following their triumphant run at the 2022 Grinnell invitational. The stellar trio comprises 3A #24 Raegan Snieder (11 – Pella), 3A #1 Marissa Ferebee (10 – Pella), and 3A #11 Autumn Blink (12 – Pella). Also joining them is last week's Pella Invitational runner-up, Ruth Dunham. Notably, six of Pella's girls finished under the 21-minute mark, and they are all poised to showcase an even better performance on Grinnell's speedy course.
Other Notable Runners:
3A:

Jaida Lyons, 12 – Benton (#25)

2A:

Zada Buchholtz, 12 – Williamsburg (#6)
Maelyn Parsons, 11 – Williamsburg (#20)
Analise DeWitt, 10 – Williamsburg (#24)
Seeking Redemption at the Dutch Invitational
Last year's Grinnell Invitational was a defining moment for the boys' team, especially with Chase Lauman, a 2023 graduate, making history by setting a course record with a staggering 15:58. As impressive as that feat was, the pertinent question looms: Will this record endure for a full year?
All eyes are on 3A #2 Canaan Dunham, who recently showcased an impeccable performance, completing a challenging Pella course in 15:47. Given such prowess, Lauman's record might be on borrowed time this coming Tuesday morning. Dunham isn't the only spotlight, though. He's flanked by his formidable ranked teammates: 3A #4 Nathan Vander Waal, #23 Devon Browne, and #25 Noah Schuknecht.
However, South Tama's gem, Tommy Tyynismaa, is poised to be the potential rain on their parade. After clinching the runner-up position last year, Tyynismaa is undoubtedly eyeing the top spot, and with it, the opportunity to not just set a fantastic time, but also deliver a possible upset victory.
Other Runners to Keep an Eye On:
2A:

#27 Wes Hulseberg 12 Williamsburg
Coach's Comment
"Our first ever morning weekday race allows us the opportunity to try something different. These moments give your athletes a great opportunity to learn how to be flexible and prepare for racing regardless of the condition. We look forward to this opportunity."
Support Our Team!
Encourage family, friends, and fans to come out and support:
Wear your Dutch Green!
Bring your best positive cheer voice and cheer on the Dutch….by name if you know it!
Upcoming Races
September 11 – Mike Carr Invitational, Huxley Iowa – Ballard Golf and Country Club
September 16 – Heartland Classic, Pella Iowa – Central College Cross Country Course
Follow Us