Meet Information
Date: September 11, 2023
Location: Ballard Golf & Country Club – 30608 US-69, Huxley, IA 50124 –  [Google Maps Link]
Race Start Time:
9:00am: 9-10 RACE-Girls (9th and 10th grade only)
9:35am: 9-10 RACE-Boys (9th and 10th grade only)
10:10am: JV Girls (All Grades)
10:45am: JV Boys (All Grades)
11:20pm: Varsity Girls (7 Entrants per team)
11:50pm: Varsity Boys (7 Entrants per team)
12:15 pm: Awards Ceremony
Parking: Please read these detailed & important parking instructions
Last Year…
Boys Results 2022
Boys 5K
Pella 14th out of 37 – 358
Top 3 Dutch Individuals
11 Chase Lauman, 12 16:11.3
19 Canaan Dunham, 9 16:23.3
59 Nathan VanderWaal, 11 17:08.2
Girls Team Results 2022
Girls 5K
Pella 1st out of 31 – 143
Top 3 Dutch Individuals
11 Marissa Ferebee, 9 19:51.0
12 Raegan Snieder, 10 19:53.1
17 Autumn Blink, 11 20:01.2
Central College Course
Planning to cheer at the Central College Cross Country course? This place is like a well-maintained park trail made especially for runners. It's got its quirks with a few challenging turns and rises, but there's plenty of smooth paths where runners pick up the pace. And for those of us on the sidelines? There are a couple of spots perfect for watching the race unfold multiple times. Just a friendly heads-up: bring your comfy shoes. With all the buzz, you might feel the itch to hop around for the best views – maybe even jog a bit!
Probable Team Line Up
Varsity Boys
D Browne, Dunham, Gaul, Hellbusch, Huston, Schuknecht, VanderWaal
JV Boys
All remaining healthy runners
Varsity Girls
Blink, Boonstra, Dunham, Ferebee, Neumann, Schroeder, Snieder
JV Girls
All remaining healthy runners
Central College Girls Top 10 Time All-Time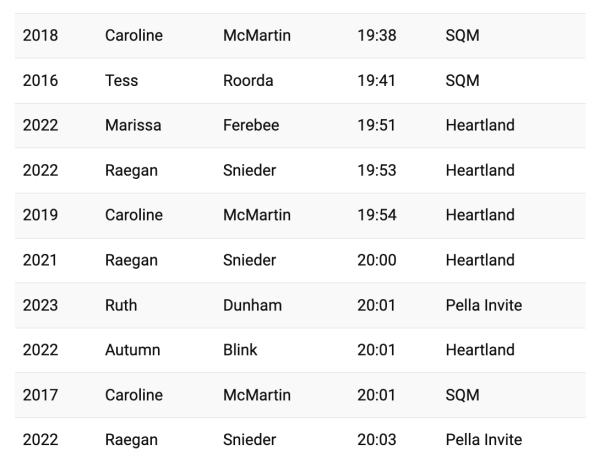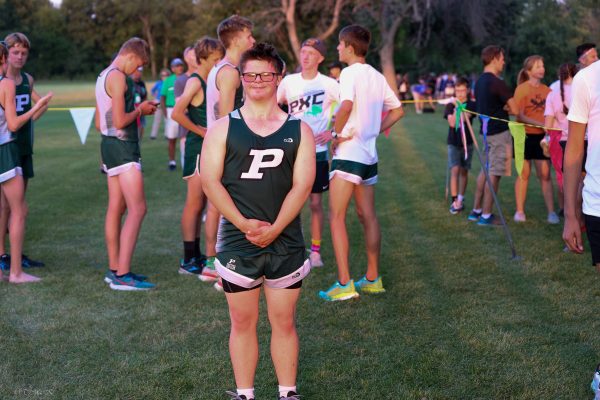 For nearly two decades, the Heartland Classic has been a beacon for elite runners across the Midwest. This year is set to continue that tradition, welcoming teams from Nebraska, South Dakota, Kansas, and Iowa. Among the participants are several top-ranked athletes, all eager to make their mark on the Central College course and vie for the coveted Heartland title.
With last year's event boasting 31 girls' teams and 37 boys' teams, this year promises a similarly impressive turnout. This Saturday's race isn't just another meet; it's a gathering of the Midwest's finest, a display of skill and determination. Mark your calendar, because the Heartland Classic is an event you won't want to miss.
Boys Team Race Outlook
With a lineup brimming with talent, singling out just a few ranked teams for this article is no easy feat. By honing in on the top 5 from various classes across the Midwest, we unveil a selection of strong contenders vying for the title this Saturday.
South Dakota: Our neighbors to the northwest send a single team currently ranked #1 on Athletic.net. The Patriots showcased their strength at the Heartland preview meet on September 9th, sealing a 4th place finish and emerging as the top South Dakota team. Their stats include a team average of 16:29 and a 1:35 spread.
Nebraska: The Cornhusker State is undeniably loaded with talent. The spotlight shines on three schools within the top 5 of Class 'A':
#2 Fremont: Fresh off their remarkable performance at the Augustana Twilight, where they secured 2nd place just behind the stalwarts, Creighton Prep. They clocked in a team average of 16:31 with a 2:19 spread.
#4 Millard West & #5 Papillion-La Vista South: These two titans collided at the Platte River Rumble on September 8th, with Papillion-La Vista South emerging victorious.
Kansas: The Sunflower State is represented by a single team this year, but what a team it is! Gardner-Edgerton, presently ranked #1 in 6A, recently dazzled at the Olathe Twilight. They not only clinched 4th overall but also were the top Kansas team finishing with a solid 16:13 average. Coach Walt Cochran undoubtedly has this team primed for a potential triumph in Iowa.
Iowa: The host state boasts a large number of ranked boys' teams. Among the top five from various classes gracing the event are:
4A: #3 Ankeny, #4 Dowling, #4 Dallas Center-Grimes, and #5 Norwalk
3A: #1 Gilbert and #2 Pella
2A: #1 Des Moines Christian
Other Notable Ranked Teams:
Nebraska 'A': #8 Lincoln South West
Iowa 4A: #6 Waukee, Northwest, #11 Dubuque Hempstead, #12 Pleasant Valley, #13 Waukee, #16 Cedar Rapids Prairie, #18 Indianola, and #20 Iowa City High
Iowa 3A: #8 Glenwood
Iowa 1A: #6 Pekin
With such a competitive roster, Saturday's showdown promises to be thrilling!
Central Course Boys Top 10 Time All-Time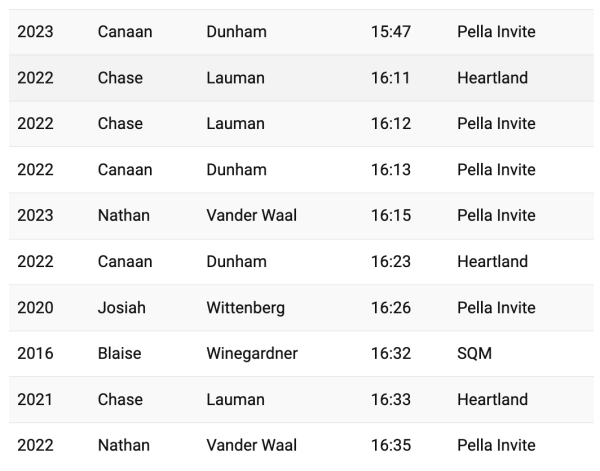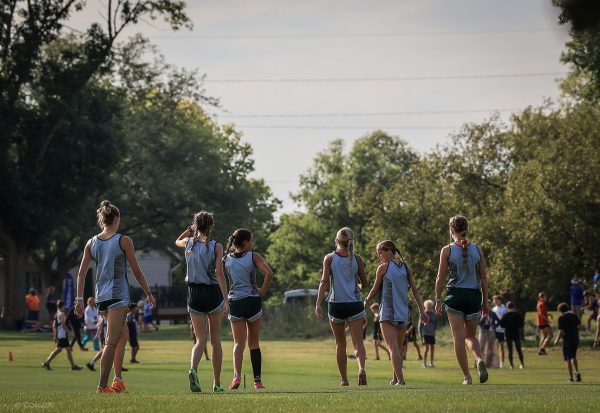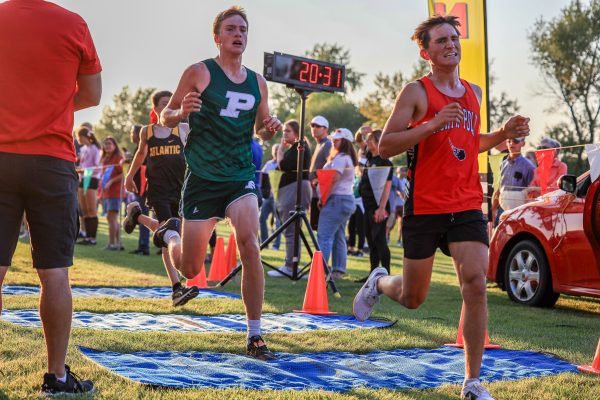 Girls Race Filled with Highly Ranked Teams
The girls' competition promises to be every bit as exciting as the boys'. Talent is abundant, and competition fierce. Here are the teams set to headline this thrilling contest.
Nebraska: Two top teams emerge from the Cornhusker State:
'A' #2 Millard West: They showcased their caliber at the Platte River Rumble, securing a commendable 3rd place.
'A' #4 Papillion-La Vista South: Not far behind at the same event, they placed 5th, signifying an exciting rivalry in the making.
Kansas: Representing the Sunflower State is the up-and-coming Gardner-Edgerton team. Fresh off a 13th place finish at the Olathe Twilight meet, the Blazer girls are on an upward trajectory, looking to cement their mark in Iowa.
South Dakota: Sioux Falls Lincoln, ranked 7th, is the lone representative from South Dakota. Their 6th place finish at the Heartland Preview offers a glimpse into their formidable potential.
Iowa: The host state boasts depth in talent across the classes. Standouts include:
4A: Spearheaded by #4 Dallas Center-Grimes
3A: The top three ranked teams #1 Pella (the reigning 2022 Heartland Classic Champions), #2 Gilbert, and #3 Ballard.
Any of these teams from the Hawkeye State have the makings of podium contenders.
Other Notable Ranked Teams:
Nebraska: 'A' #10 Fremont and 'A' #6 Lincoln Southwest
Iowa 4A: The pack includes #8 Waukee, #12 Waukee North West, #15 Southeast Polk, #18 Linn-mar, #9 Iowa City High, #13 Dowling Catholic, and #16 Prairie, Cedar Rapids
Iowa 3A: The competitive duo of #6 ADM and #7 Glenwood
Iowa 2A: Holding the banner high is #10 Des Moines Christian
Iowa 1A: #13 Pekin rounds up the lineup.
With such an ensemble, fans and participants are in for a memorable race!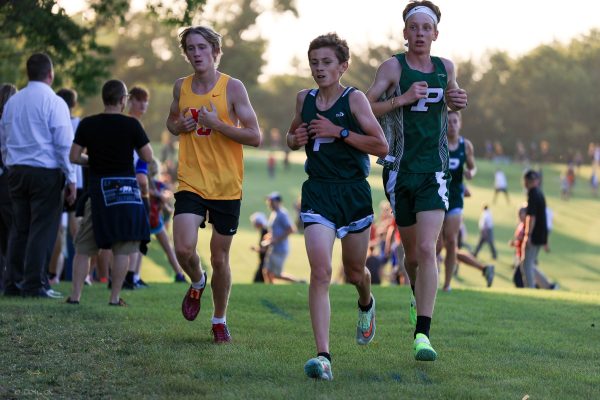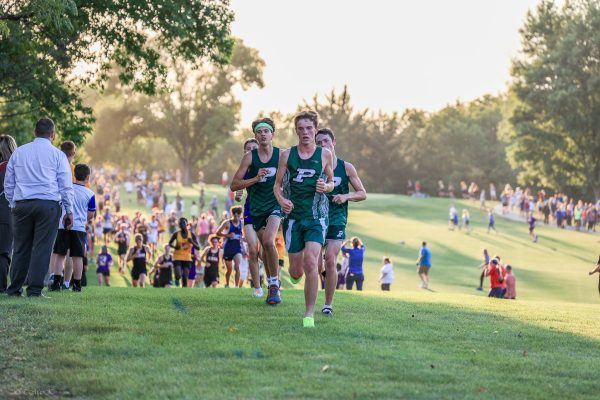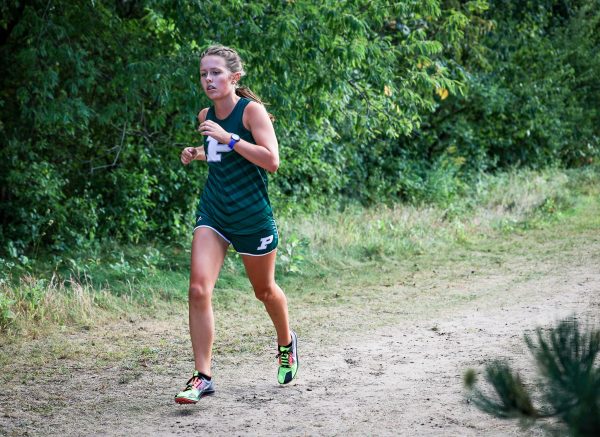 Athlete Spotlight
Boys Individual Race: Get Ready for Lightning Speed!
With 31 boys teams competing in the 18th Heartland Classic, the field is brimming with talent. It's a challenge to spotlight them all, but let's highlight a few of the frontrunners.
Jack Witte (Millard West): Posted the swiftest time this year with a 15:04.2 finish at the Platte River Rumble.
Juan Gonzales (Fremont): Not far behind, he clocked 15:10.4 at the same event. His teammate, Wes Pleskac, also impressively came in under 16 minutes with a time of 15:52.4.
Kansas makes its presence felt:
Parker Walion: Registered an impressive 15:03.0 at the Olathe Twilight.
Iowa isn't to be outdone. Several runners from the state have also dashed under the 16-minute mark, pushing for the individual championship title:
Ethan Zuber (Ankeny): Achieved 15:07.7 at the Bobcat Invitational.
Dowling Catholic Pair: Max DeRocher and Jack Flori registered 15:28.4 and 15:32.4, respectively, at the Bobcat Invitational.
Owen Marett (Des Moines Roosevelt): Completed the ISU course in 15:35.7.
Other sub-16 minute contenders from Iowa include:
Joseph Lawry (Waukee): 15:44.7 at ISU
Ike Smith (Ankeny): 15:47.4 at Bobcat Invite
Historical Context: The course record for the High School 5K stands from last year when the now Duke standout, Jackson Heidesch, raced through the muddy terrain in 15:24.1. The swiftest time this year was clocked by Canaan Dunham (Pella Sophomore) at 15:47.8 in early September. With favorable course conditions, could we see this record toppled?
Girls Race: Showcasing the Midwest's Elite
The list of girls who've sprinted under the 19:30 benchmark is impressive. Let's delve into some of the frontrunners from different states:
Kansas' Gardner-Edgerton High School: Presents a dynamic duo:

Rachel Harpt: Season-best of 18:55.8
Isabella Meili: Has clocked 19:14.6

Nebraska's Top Contenders:

Kate Ebmeier (Millard West): Boasts a time of 18:59.2 this season.
Litzey Fredette (Millard West): Comes close with 19:18.5
Libby Frazer (Millard West): Neck-and-neck with a best of 19:18.8.
Chloe Hemmer (Fremont): Not far off the pace, having run 19:29.9.

Iowa's Formidable Runners:

Chloe Glosser (1A Pekin): Stellar time of 18:12 just last week.
Michelle McConkey (Waukee): Impressive season-best of 18:38.0, with her teammate Sydney Burrier clocking 19:24.2.
Ani Wedemeyer (Iowa City City High): A major threat, having registered 19:10.2.
Lillian Sundet (Waukee North West): Enters with a 19:25.9 under her belt.
With this talent, the race is undoubtedly set to be exciting.
Course Record in Sight?
Ballard High's remarkable Paityn Noe set the course on fire last year with a record-setting 17:28.7. This number might seem out of reach, but with the fierce competition lined up, these girls are revved up to challenge it.
Coach's Comment
"Years ago, we started attending the Heartland Classic to experience something bigger than ourselves. Now, the team realizes we belong and can compete with this field. So, that is what we set out to do this weekend: COMPETE!"
Support Our Team!
Encourage family, friends, and fans to come out and support:
Wear your Dutch Green!
Bring your best positive cheer voice and cheer on the Dutch….by name if you know it!
Upcoming Races
September 26 – Williamsburg Invitational – Williamsburg Sports Complex
October 2 – Hillcrest Invitational – Hillcrest Academy Kalona Iowa
Follow Us