Meet Information
Date: September 26, 2023
Location: Williamsburg Recreational Park 913 Franklin Street, Williamsburg, IA 52361 [Google Map]
Race Start Time:
5:05 PM Varsity Girls
5:35 PM Varsity Boys
6:05 PM JV Girls
6:35 PM JV Boys
7:00 PM Awards
Parking/Admission: $5.00 per car
Last Year…
Boys Results 2022
Boys 5K
Pella 1st out of 14 – 42
Top 3 Dutch Individuals
1 Chase Lauman 12, 16:26.00
3 Canaan Dunham 9, 16:37.99
7 Nathan VanderWaal 12, 16:52.33
Girls Team Results 2022
Girls 5K
Pella 1st out of 13 – 53
Top 3 Dutch Individuals
2 Marissa Ferebee 9, 19:31.65
7 Jacie Trine 11, 20:23.72
8 Raegan Snieder 10, 20:27.71
Williamsburg Cross Country Course
The Williamsburg course is all about being flat and fast. While the race has been a tradition for a while, the Pella High School's Dutch cross country team jumped into the mix in 2018. Runners dash through soccer fields and baseball diamonds, giving fans plenty of chances to cheer them on. You'll see some impressive speeds, and if you decide to move around a bit, you'll get multiple views of the action. So, if you're into exciting races and close-up action, Williamsburg is the place to be.
Probable Team Line Up
Varsity Boys
D Browne, Dunham, Ebersole, Gaulke, Hellbusch, Schuknecht, Vander Waal
JV Boys
All remaining healthy runners
Varsity Girls
Blink, Boonstra, Brenneman, Dunham, Ferebee, Paulsen, Schroeder
JV Girls
All remaining healthy runners
Williamsburg Course Girls Top 10 Time All-Time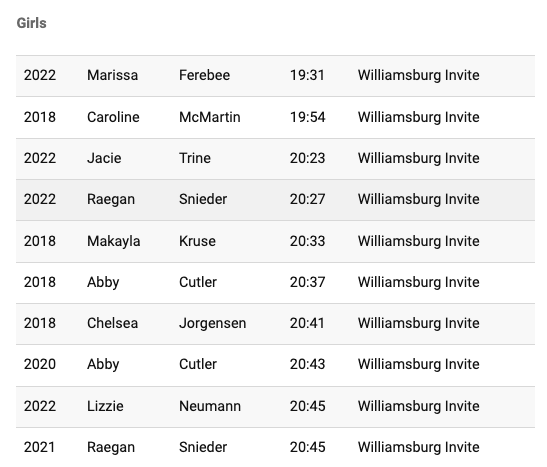 Boys Team Race Outlook
Boys Cross Country Race Preview
The boys' race promises to be a thrilling competition with ten ranked teams from several classes participating. The reigning champions, 3A #2 Pella, are aiming for another victory. The Dutch boast a powerful lineup, featuring several top-ranked runners. With their recent performances, 3A #4 Mount Vernon-Lisbon and 3A #5 Carlisle could potentially challenge Pella. Additionally, 3A #16 South Tama is set on improving its position in the polls as championship season approaches.
Other ranked teams in the competition include:
4A: Waterloo East
3A: West Delaware, 2A: Eddyville-Blakesburg-Fremont, #15 Pella Christian, #19 Tipton, #6 Vinton-Shellsburg, #12 Williamsburg
1A: Belle Plaine, #19 Danville, English Valleys, HLV, Iowa Valley, Lynnville-Sully, Meskwaki Settlement, North Mahaska, Tri-County
Williamsburg Course Boys Top 10 Time All-Time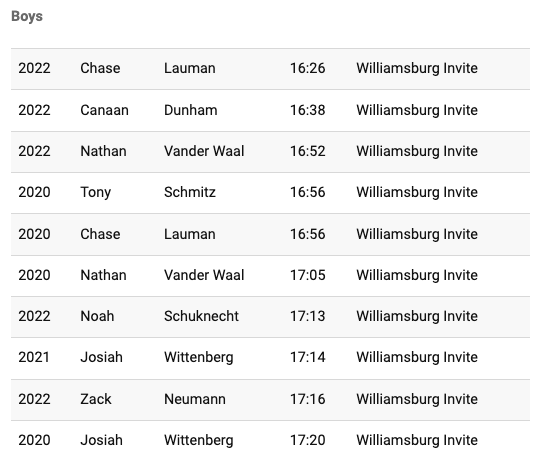 Girls Team Race Outlook
The 3A #1 Pella Dutch girls team looks to restart their winning streak, which ended last weekend at the Heartland Classic. This winning streak extended across 11 meets. Now, the Dutch are eager to ignite a new streak. However, achieving this won't be straightforward. Several ranked teams are ready and eager to challenge the Dutch's aspirations. Fresh from their victory at the Solon Invitational on September 18th, 3A #4 Mount Vernon-Lisbon hopes to maintain their momentum. 3A #7 Solon, who closely trailed in second at the same meet, is keen on securing a triumphant comeback. The 2A powerhouse, #4 Tipton, also presents as strong contenders.
Other participating teams include:
4A: Waterloo East
3A: Carlisle, South Tama, West Delaware
2A: Eddyville-Blakesburg-Fremont, #19 Pella Christian, Vinton-Shellsburg, #15 Williamsburg
1A: Belle Plaine, Danville, #19 English Valleys, HLV, Iowa Valley, Lynnville-Sully, Meskwaki Settlement, North Mahaska, Tri-County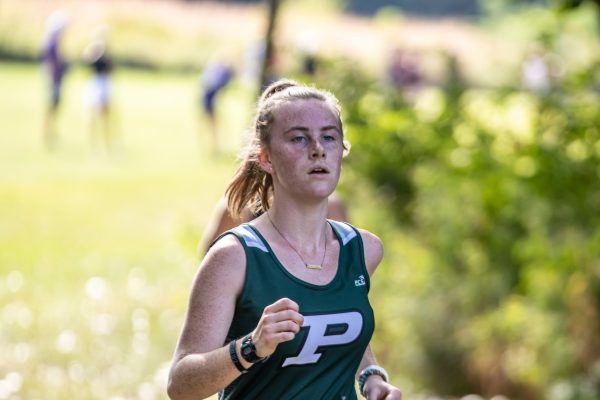 Athlete Spotlight
Boys Individual Race
Twelve ranked boys are set to compete this Tuesday. Among them are four boys ranked in the top ten of 3A: #2 Canaan Dunham and #4 Nathan Vander Waal, both of whom broke the 16-minute mark last week at the challenging Heartland Classic meet. The Dutch duo have raced against #10 Tommy Tyynismaa several times this season and anticipate another intense battle with the South Tama harrier. This meet presents the first opportunity for the Pella boys to compete against #6 Grady Olberding from Mount Vernon-Lisbon. An exciting showdown is expected. From 2A Vinton-Shellsburg, two runners are ranked in the top 15: #8 Alex Torres and #14 Eli Page, both eager for a fast race and an opportunity to climb the rankings. Other ranked boys are:
3A: #21 Noah Schuknecht 10, Pella; #27 Ezra DeCleene 12, Carlisle; #28 Aren Hellbusch 11, Pella; #29 James Brant 12, South Tama
2A: #19 Clay Bohlmann 11, Tipton
1A: #19 Jackson Schacklett 11, Danville
Historical Context: The course record for the High School 5K on this course was established in 2020 by the now-UNI standout, Caleb Shoemaker, with a time of 16:20. Given that several of the athletes have clocked times under 16 minutes this year, the record might be challenged if weather conditions are favorable.
Girls Individual Race
The highlight of this race is the impressive Pella Dutch pack. Currently, an unprecedented six Dutch girls are ranked in 3A. Any of the top three ranked Dutch runners—#3 Ruth Dunham, #4 Marissa Ferebee, or #5 Autumn Blink—could potentially clinch the win. Following closely are #20 Lizzie Neumann, #21 Macy Schroeder, and #22 Raegen Snieder. Carlisle's #9 Maya Bergstrom is one to watch, as she might disrupt the Pella formation. Other ranked runners are:
2A: #17 Alivia Edens 12, Tipton
1A: #29 Alaina Gourley 10, Danville
Interesting stats from 2023 Season…so far
11 girls have run under the lettering time of 22:30
3 freshman girls have run under 22:30
8 girls have run under 21:00
3 girls have run under 20:00
10 boys have run under the lettering time of 18:30
4 boys have run under 17:00
2 boys have run under 16:00
5 boys are less than 20 seconds from running under 18:30
Coach's Comment
"Williamsburg is considered flat and fast, but there are a great many turns.  This race trains us to maintain effort and focus while navigating change.  True in racing …. true in life! 😊"
Support Our Team!
Encourage family, friends, and fans to come out and support:
Wear your Dutch Green!
Bring your best positive cheer voice and cheer on the Dutch….by name if you know it!
Upcoming Races
October 2 – Hillcrest Invitational – Hillcrest Academy Kalona Iowa
October 9 – Little Hawkeye Conference Championships – Pickard Park Indianola Iowa
Follow Us