Meet Information
Date: October 9, 2023
Location: Pickard Park Indianola | 2205 E 2nd Ave, Indianola, IA 50125 [Google Map]
Race Start Time:
4:30 PM JV Girls
4:55 PM JV Boys
5:20 PM Varsity Girls
5:45 PM Varsity Boys
Parking: It is limited. Carpooling might be a good idea.
Last Year…
Boys Results 2022
Boys 5K
Pella 2nd out of 8 – 42 points
Top 3 Dutch Individuals
1 Chase Lauman 12, 16:06.5
3 Canaan Dunham 9, 16:21.2
5 Nathan VanderWaal 11, 16:27.3
Girls Team Results 2022
Girls 5K
Pella 1st out of 8 – 45 Points
Top 3 Dutch Individuals
1 Marissa Ferebee 9, 19:17.3
4 Autumn Blink, 20:50.2
7 Jacie Trine 11, 20:50.2
Pickard Park Cross Country Course
While Pickard Park is a storied cross country course that has been competed on by many athletes, both college and high school, this will be the first time the Pella Dutch have competed there since 2016. The girls team won and the boys team placed fourth in that race.
Pickard Park is a technically challenging course that rewards disciplined runners with solid times. The first mile is a solitary but scenic trek back into the fields and wooded area. A large hill challenges runners in the first mile. The next two miles loop around the same area. This is the course's flatter and faster section.
Runners who tackle the first mile well will reap the rewards here.
The course winds through classic Iowa farmland and woodlands. The course is even more lovely the later the race is in the fall as fans and athletes can take in the colors of the Autumn foliage.
From a fan perspective…well, bring some running shoes! Navigating the course to see the athletes can be challenging. he start and finish are far apart, so you'll need to move around to see all the action. Regardless, you'll see athletes giving it their all on this scenic course.
Probable Team Line Up
Varsity Boys
Devon Browne (11), Canaan Dunham (10), Stephen Gaul (12), Mason Gaulke (10), Aren Hellbusch (11), Noah Schuknecht (10), Nathan Vander Waal (12)
JV Boys
Jack Brown (9), Kaiden Browne (11), Porter Carlton (9), Mars Chapel (11), Jack Conrad (12), MacK Copeland (11), Aaron DeBruin (12), Jacon DeRuiter (12), Shane Earles (9), Eli Ebeling (12), Jonah Ebersole (9), Abner Erickson (10), Henry Gauley (10), Noah Huffaker (11), Aiden Huston (10), Jake Huston (12), Evan Johnston (10), Kolton Messer (12), Alex Mitchel (12), Loic O'Neil (11), Zach Papendick (12), Dane Paulsen (10), Caleb Punt (9), Daniel Rozenboom (10), Asher Schiebout (10), Jordan Shaffer (11), Braden Steenhoek (12), Trevin Sutton (9), Aaron Thatcher (9), Benjamin Thompson (11), Isaac Treimer (12), Caiden Tuel (9), Wyatt Van Dyke (12), Malachi Van Haaften (9), Sawyer Van Wyk (9), Zack Van Wyk (9), Isaac Vandenberg (10), Atticus Vos (12)
Varsity Girls
Autumn Blink (12), Elsie Brenneman (9), Ruth Dunham (9), Marissa Ferebee (10), Lizzie Neumann (10), Macy Schroeder (12), Raegan Snieder (11)
JV Girls
Nora Ausman (11), Josie Boll (10), Sophia Boonstra (11), Reanna DeVries (10), Rose DeVries (10), Leticia dosSantos (11), Faith Galeazzi (11), Carlyn Henry (10), Avary Hunsinger (10), Kadence Jaworski (11), Cameron Knouse (10), Morgan McAninch (10), Greta Miller (9), Lyndon Norton (10), Tess Paulsen (11), Chloe Punt (11), Juliana Robbins (9), Mara Schiebout (11), Phoebe Schrauben (11), Isabella Smith (10), Abby Teagarden (11), Jacie Trine (11), Kamry Trine (9), Addison Van Wyk (10), Lily VanDusseldorp (11), Lydia Vos (11), Rebekah Wittenberg (10), Emerson Wogen (10)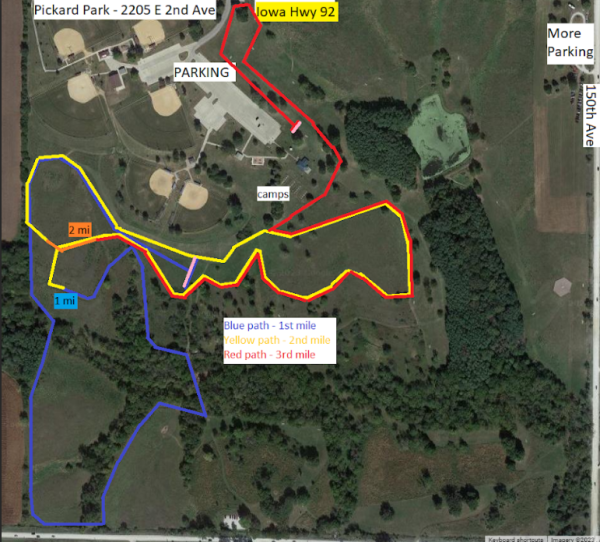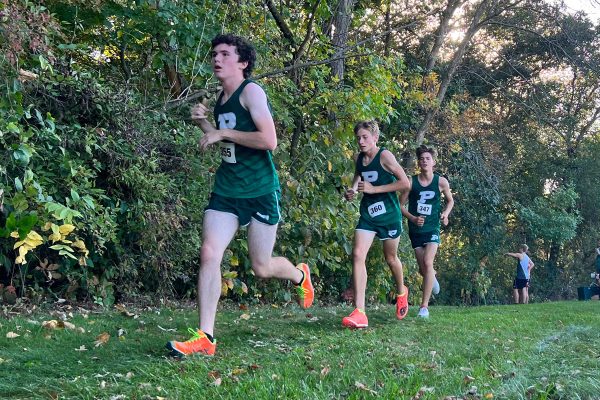 Dutch Girls Conference Champions

Dutch Boys Conference Champions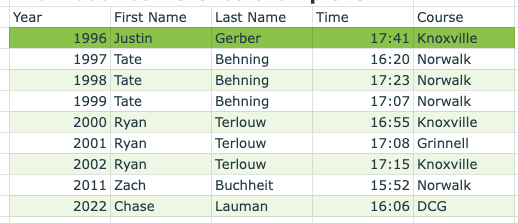 Boys Team Race Outlook
Boys Cross Country Race Preview
The Little Hawkeye conference boys race is arguable the toughest conference meet in Iowa. The race boasts highly ranked teams from three Iowa High School classifications from 4A-2A. Dallas Center-Grimes comes in ranked #6 in their second year as a 4A school. Norwalk who also moved up to 4A in the last few years is ranked #11 in 4A. The Pella Dutch boys are currently ranked #2 in 3A. Currently, the Pella Christian Eagles are ranked #16 in 2A and are coming off a great performance at Centerville. The championship race between Dallas Center-Grimes, Norwalk, and Pella will be intriguing. The last time all three of these teams met was at the Heartland Classic back in mid-September. At that meet there was 10 points separating the three teams. Dallas Center-Grimes scored 255, Norwalk scored 260, and Pella scored 263. That is a good indicator of what this race should hold. Here are the other teams competing:
Indianola, Newton, Oskaloosa
Interesting tidbits:
The last time the Dutch won the conference championship was 2009. This is a testament to the strength of this conference meet. That year was also the Dutch first state championship.
Last year Norwalk placed 4th in the 4A State Championship race, Pella Christian placed 7th in the 2A State Championship race, and the Pella Dutch were 3A state Champions.
Girls Team Race Outlook
The Little Hawkeye girls race is similar to the boys in terms of strength. The 4A #5 Dallas Center-Grimes team is likely the favorite coming into the meet. They have had a consistently strong 2023 season. The 3A #1 Pella Dutch will present a strong challenge to Dallas Center-Grimes. The Dutch runners have won every meet this year except for one. That meet happened to be the Heartland Classic back on September 16th where they placed 3rd. The second place team was the aforementioned Dallas Center-Grimes. This will be an intriguing rematch. The Indianola girls team is not going to stand back while the race happens. They come in with a strong team that is currently ranked #14 in 4A. Other competing teams:
Newton, Norwalk, Oskaloosa, Pella Christian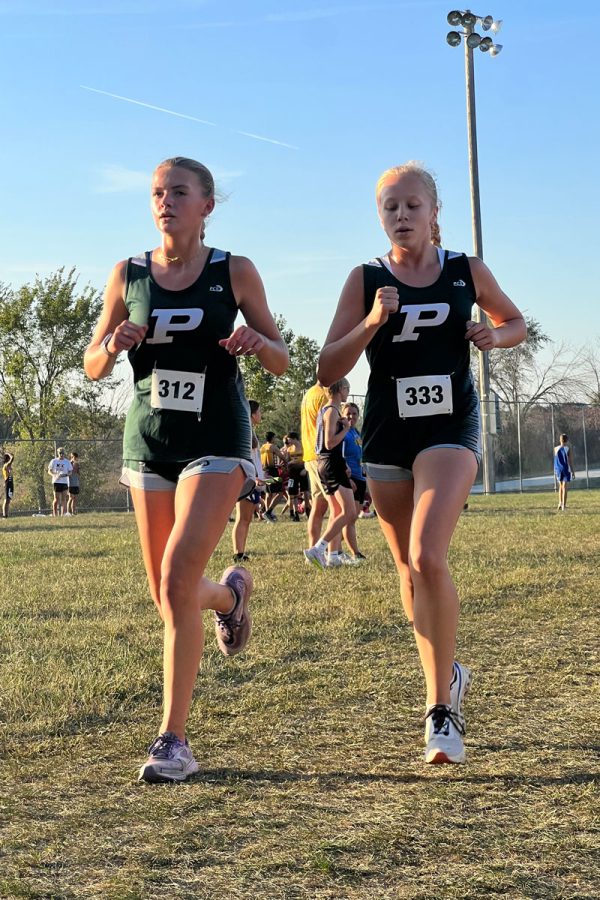 Athlete Spotlight
Boys Individual Race
The Dutch's Canaan Dunham is currently ranked #2 in 3A and has been on a tear this season. He has won five of six races this year. Last year Canaan was third at the Little Hawkeye Championships. He looks to build on that this year. Pella senior and 3A #7 Nathan Vander Waal is looking to improve on his 5th place finish from the 2022 season. 4A #10 Noah Buhrow of Norwalk and 4A #17 Jack Every are challengers for the crown this year as well. The Pickard Park cross country course will prove to be a worthy challenge for these young men as they seek a conference championship.
Other ranked boys:
4A – #22 Elias Arbuckle 11 DALLAS CENTER-GRIMES, #27 Colin Mandernach 10 DALLAS CENTER-GRIMES
3A – #27 Noah Schuknecht 10  PELLA, #30 Aren Hellbusch 11 PELLA
Historical Context: Chase Lauman won the conference individual championship in 2022. He was the first to win an individual title for the Dutch since Zach Buchheit won in 2011. The last time the Dutch won back-to-back individual titles was 2001-2002 when Ryan Terlouw won two of seven straight individual titles.
Girls Individual Race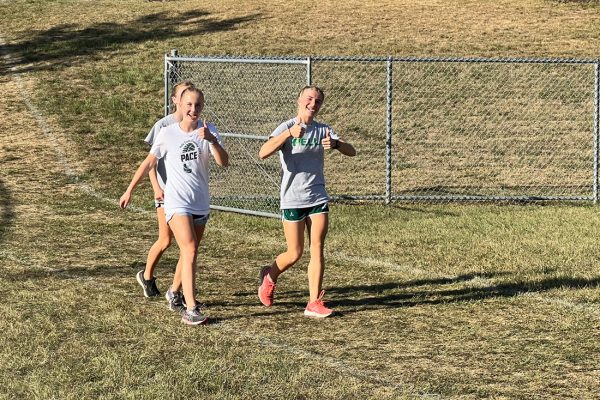 As strong as the boys race is, the girls race is shaping up to be even stronger with 11 ranked girls toeing the line on Monday. All eyes will be on 4A #2 Piper Messerly freshman standout for Dallas Center-Grimes. She has put together a fantastic season. Most recently placing 7th at the Rim Rock Classic in Lawrence Kansas where she ran 18:28.60 against some of the mid-west's best runners. The Dutch bring the 2022 Little Hawkeye Conference champion and current 3A #8 Marissa Ferebee  (9) will be in the mix as well. She has returned to form after struggling through an early season injury. Her teammates 3A #7 Ruth Dunham (9) and #9 Autumn Blink (12) are in the mix as well.
Other ranked girls are:
4A – #19 Emily Meyers 11 DALLAS CENTER GRIMES, #23 Maddy Stevens 11 DALLAS CENTER GRIMES, #26 Gracie Foster 12 INDIANOLA
3A – #12 Raegan Snieder 11 PELLA, #26 Lizzie Neumann 10 PELLA, #27 Macy Schroeder 12 PELLA
2A – #21 Bailey Vos 10 PELLA CHRISTIAN
Historical Context: If Marissa Ferebee can win the conference championship this year it would be the first time the Dutch girls have had a back-to-back champion since Gabi Meirick did it back in 2010-2011. Ferebee would be the first since the girls moved to the 5K distance.
Coach's Comment
"Last season the Little Hawkeye Conference was instrumental in sharpening us for our 3A postseason run. We anticipate the same to be true this season. It's a highly competitive race that can only help us get better for what's to come"
Support Our Team!
Encourage family, friends, and fans to come out and support:
Wear your Dutch Green!
Bring your best positive cheer voice and cheer on the Dutch….by name if you know it!
Upcoming Races
October 16 – Junior Varsity Last Chance Meet – Pella Sports Park
October 18 – State Qualifying Meet – Pella Sports Park
Follow Us