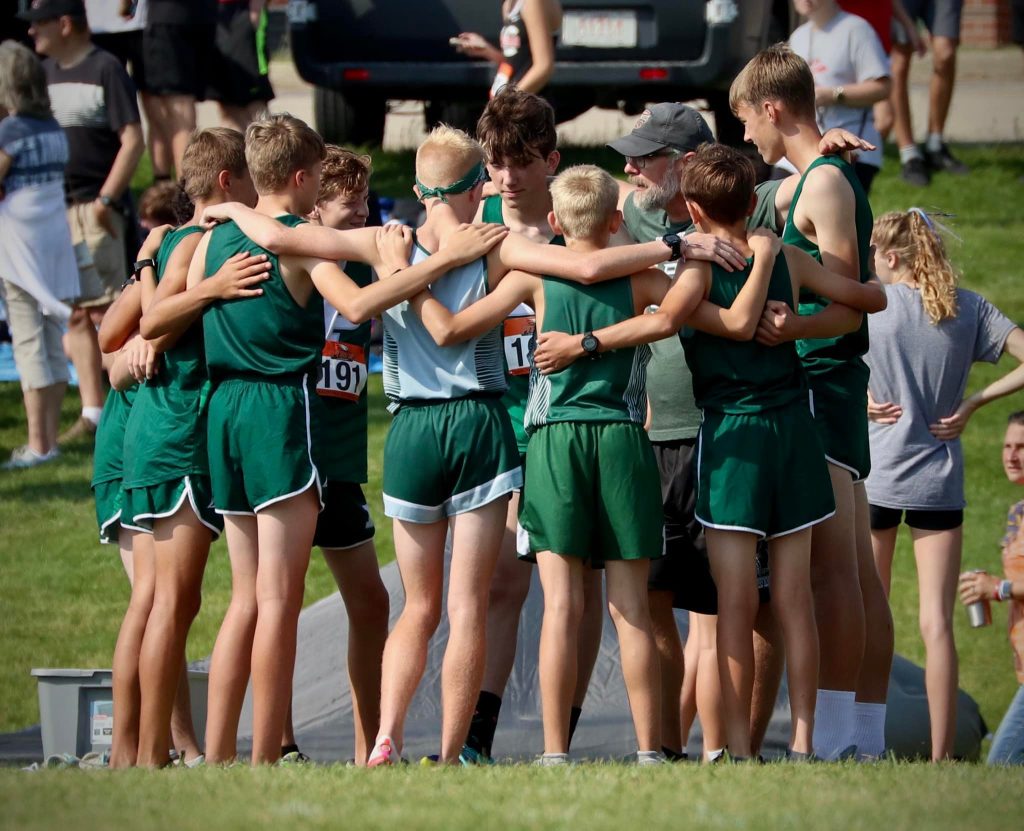 Update: Due to a miscommunication on the attendance of Mid Prairie we failed to add them to our preview. This has been updated as of 8/30/23 to reflect their attendance.
Meet Information
Date: August 26, 2023
Location: Central College – 812 University St, Pella, IA 50219 [Google Maps Link]
Race Start Time:
9:00 AM – Girls Race

9:40 AM – Boys Race
NOTE: Both races have been moved forward to ensure the temperatures will be more favorable.
Parking:  Fans may park by the baseball/softball field of Central College along Fifield Road or on campus lot in front of Kuyper Gym at Central. Courtesy carts will be at each of these locations. Another option is the United Methodist Church on University Street to the south of the course. NOTE: Walking uneven terrain will be required.
Last Year…
Boys Results 2022
Boys 5K
Pella 2nd – 41
Top 3 Dutch Individuals
Chase Lauman 2nd 16:12.1
Canaan Dunham 3rd 16:13.9
Nathan Vander Waal 16:35.2
Girls Team Results 2022
Girls 5K
Pella 2nd – 41
Top 3 Dutch Individuals
Raegan Snieder 3rd 20:03.5
Marissa Ferebee 5th 20:11.2
Autumn Blink 7th 20:15.8
Planning to cheer at the Central College Cross Country course? This place is like a well-maintained park trail made especially for runners. It's got its quirks with a few challenging turns and rises, but there's plenty of smooth paths where runners pick up the pace. And for those of us on the sidelines? There are a couple of spots perfect for watching the race unfold multiple times. Just a friendly heads-up: bring your comfy shoes. With all the buzz, you might feel the itch to hop around for the best views – maybe even jog a bit!
Probable Team Line Up
Varsity Boys
EVERYONE!
Varsity Girls
EVERYONE!
Central Course Girls Top 10 Time All-Time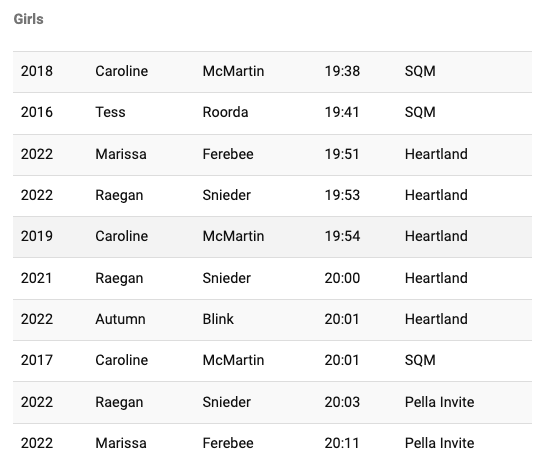 RACE LINE UP (as of 8/29/23)
Large School Division (3A)
Boys: ADM (3A #12) , Bondurant-Farrar, Glenwood (3A #6), Mt. Pleasant, Oskaloosa, Pella (3A #1), North Polk (3A #13), Winterset (3A #11)
Girls: ADM (3A #3), Bondurant-Farrar, Mt. Pleasant, Oskaloosa, Pella (3A #1), North Polk, Winterset
Small School Division (1A/2A)
Boys: Baxter, EBF, Collins-Maxwell, Lynnville-Sully, (2A #7) Mid-Prairie, Pella Christian (2A #14)
Girls: Baxter, EBF, Collins-Maxwell (1A #18), Lynnville-Sully, (2A #1) Mid-Prairie, Pella Christian (2A #12)
Note: All teams race together. The divisions will be broken up in the results post-race.
Central Course Boys Top 10 Time All-Time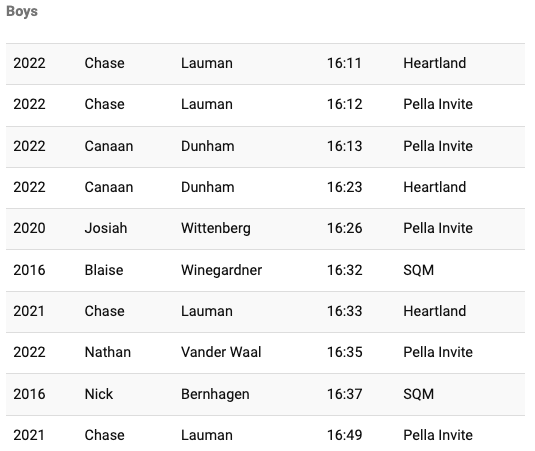 Athlete Spotlight
Will Pella's Winning Streak Continue?
It's been a while since the Pella Dutch girls' team didn't finish first — all the way back at the 2022 Dutch Invitational. They'll be aiming to keep that impressive run alive this Saturday. However, they're up against stiff competition, especially from last year's victors, ADM. Even though ADM's star Geneve Timmerman has moved on to the University of South Dakota, they still have a talented lineup that could challenge for top honors come October. On the other side, Pella boasts a roster bursting with returning state champions, supplemented by promising newcomers. Their journey to potentially claim another state title gets underway at Central's course. Rewinding to last year, it was a nail-biter with ADM edging out Pella 37-41. We might be in for another close contest this year.
Runners to Watch:

3A #1 Marissa Ferebee is stepping onto the course for her 2023 debut. After a minor setback with an ankle injury, she's eager to start the season on a strong note. She wrapped up this race in 20:11.2 last time around. Equally anticipated is 3A #24 Raegan Snieder's performance, who's looking to build on a successful previous year, having secured 3rd at the Dutch Invitational with a time of 20:03.5. The Pella lineup is further bolstered by experienced runners like 3A #11 Autumn Blink, Macy Schroeder, Abby Teagarden, and Jacie Trine. And let's not forget 3A #7 Haley James from ADM. After finishing 4th at the previous Dutch Invitational, she's keen to make her mark again.
Other Notable Runners to Look Out For: 3A: #1 Marissa Ferebee, 10 – Pella, #7 Haley James, 10 – ADM, #11 Autumn Blink, 12 – Pella, #24 Raegan Snieder, 11- Pella 2A: #1 Danielle Hostetler, 12 – Mid-Prairie, #11 Abby Fleming, 12 – Mid-Prairie, #12 Bailey Vos, 10 – Pella Christian
All in all, we're gearing up for an intriguing race day!
Seeking Redemption at the Dutch Invitational
Last year's 2022 Dutch Invitational set the stage for a thrilling boy's race, with North Polk narrowly defeating Pella by a mere 4 points (41-45). This year, Pella is eager to reclaim victory on their home turf, armed with a robust lineup of athletes.
Leading the charge for the Dutch is 3A #2, the young dynamo, sophomore Canaan Dunham. Canaan clinched 3rd place in the previous race, clocking an impressive 16:13.9 for the 5K — marking the swiftest freshman debut for the Dutch. Then there's 3A #4 Nathan Vander Waal. While Nathan's undeniable prowess has often been eclipsed by the towering achievements of Dutch legends like Chase Lauman (now gracing the University of Northern Iowa) and Josiah Wittenburg (currently at NAIA powerhouse Dordt), this is Nathan's moment to shine. With a robust senior season, he's on a mission to etch his name among the Dutch elites. To provide some perspective, Nathan conquered last year's invitational in 16:35.2, securing 5th place.
However, the competition is fierce. Glenwood's senior star, 3A #5 Bryant Keller, who finished just a second ahead of Nathan last year with a time of 16:34.1, is back in contention. And from ADM, keep an eye on Junior sensation 3A #19 Torin Timmerman, who is bound to be in the thick of the lead pack.
Other Runners to Keep an Eye On: 3A: #2 Canaan Dunham, 10 – Pella; #4 Nathan Vander Waal, 12 – Pella; #5 Bryant Keller, 12 – Glenwood; #11 Alik McIlravy, 12 – North Polk; #19 Torin Timmerman, 11 – ADM; #23 Devon Browne, 11 – Pella; #25 Noah Schuknecht, 10 – Pella. 2A: #13 Emmett Swartzentruber, 11 – Mid-Prairie, #25 Preston Yutzy, 11 – Mid-Prairie.
The stage is set, and anticipation is high for yet another gripping race at the Dutch Invitational.
Coach's Comment
"We are looking to learn what it means to race both within ourselves and as a team. Anyone watching should hopefully observe packs helping each other get uncomfortable and share that burden together."
Support Our Team!
Encourage family, friends, and fans to come out and support:
Wear your Dutch Green!
Bring your best positive cheer voice and cheer on the Dutch….by name if you know it!
Upcoming Races
September 5 – Grinnell Invitational, Pella Iowa – Ahrens Recreational Complex
September 11 – Mike Carr Invitational, Huxley Iowa – Ballard Golf and Country Club
Follow Us