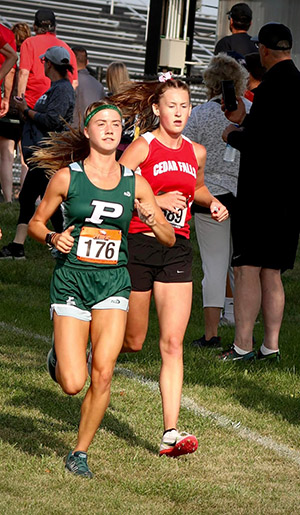 Home Sweet Home
Our records for the Pella Invitational go back a far as 2004. The meet may even go beyond that. Needless to say, it is been around a long time. We love hosting this event early in the season. Over the years the course has changed, the format has changed. The most current version is special. The meet consists of two races, a boys race and a girls race. All runners are essentially varsity. This creates a unique atmosphere that our athletes thrive on.
Probable Line Up
Girls Varsity: All available runners!
Boys Varsity: All available runners!
Strong field for a Small Meet
While the team count isn't as large as some meets the quality is still very high. This meet will include six ranked boys teams in both 1A, 2A, and 3A. There will be 5 ranked girls teams between 2A and 3A.
 Small School Division: Baxter, Eddyville-Blakesburg-Fremont, Collins-Maxwell, Lynnville-Sully, Pella Christian, Mid Prairie-Wellman
Large School Race: ADM, Bondurant-Farrar, Glenwood (Boys), Mt. Pleasant, Oskaloosa, Pella, North Polk, Waterloo West (Girls)
Ranked teams as of Aug 30th
Boys – 1A: Collins-Maxwell (#20), 2A: Mid Prairie-Wellman (#8), 3A North Polk (#2), Pella (#3), Glenwood (#5), ADM (#10)
Girls – 2A Mid Prairie-Wellman (#2), 3A Pella (#5), North Polk (#7), ADM (#17) 
A Great Individual Race
The boys individual race will feature eleven preseason ranked individual boys from  1A, 2A, and 3A. Several athletes will be flirting with dipping under 16 minutes on the Pella course so it should be a swift race. The following boys are ranked individual as of Aug 31st 2022:
3A – Zach Sporaa, North Polk (#3); Chase Lauman, Pella (#4); Max Sporaa, North Polk (#6); Andrew Smith, Glenwood ( #11); Bryant Keller, Glenwood (#12); Nathan Vander Waal, Pella (#13), Alik McIlravy, North Polk (#15), Ethan Stierman, North Polk (#26)
2A – Kaden Van Wyngarden, Pella Christian (#14), Emmett Swartzentruber, Mid Prairie-Wellman (#17)
1A –  James Gruver, Lynnville-Sully (#17)
The girls race features seven ranked individual girls from 3A, 2A, and 1A. Watch for the talented junior Danielle Hostetler of Mid Prairie to make a run for the course record.
3A – Raegan Snieder, Pella (#13); Liza Shaffer, North Polk (#15); Jacie Trine, Pella (#21), Autumn Blink, Pella (#28)
2A – Danielle Hostetler, Mid Prairie-Wellman (#1); Abby Fleming, Mid Prairie-Wellman (#13);
1A –  Greenlee Smock, Lynnville-Sully (#9);